Wolfgang Pachla,
Portrait of a European pioneer on the Marimba-Xylophone
With the passing away of Wolfgang Pachla in 1982 we lost one of the first Marimba soloists in Europe.
He was born in 1913 in Paide (Estonia). His father was Estonian and his mother was of Baltic German origin. He received his first lesson on a four-rowed Xylophone at the age of six from his father, who was a very versatile amateur musician.
Wolfgang Pachla developed an astounding virtuosity teaching himself that enabled him, after a few performances early on at his school in Tallinn where he now lived with his family, to earn some extra money on the weekends playing at various venues. At first the priority was of course his schooling and the conservatorium, where he studied violin with Prof. Paulsen as his main subject. Preference was then given to the Xylophone after he was rewarded with an engagement with the Tallinn Radio station after his early success on the Xylophone when he was 15 years old. He began to more seriously consider a career as a Xylophone soloist. He had a long path ahead of him. He was frequently heard in concerts with the Tallinn Radio, all over Estonia and in Riga but he soon had to recognise his own limitations on the Xylophone .
After his "Abitur" (final school year examinations) he had to join the Estonian military service and in their service orchestra he was able to become familiar with English and American four- to five-octave Marimba-Xylophones for the first time. He was impressed with their superior possibilities and was especially enthusiastic about the beautiful lower octaves of the Marimba. He saw many more chances for a solo career with such an instrument.
Following his military services he could no longer study due to problems within his family. His Xylophone playing could neither finance his upkeep nor a new instrument, which led him to take on a job as a book-keeping clerk so that he would have the means to purchase the desired Marimba-Xylophone. It was to cost him 25 months' wages and financing a loan before he was able to order the five-octave Ajax-Marimba from the company Boosey & Hawkes in England. He needed to extend his repertoire and learn new techniques. Because of the lack of original compositions, the repertoire included numerous transcriptions of virtuosic pieces from other instruments such as: Zigeunerweisen from Sarasate, the Flight of the Bumble Bee from Rimskij-Korsakov, Csárdás from Monti, along with his own compositions and arrangements.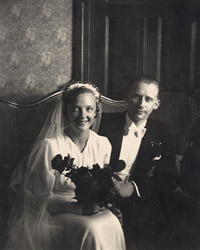 He now dared to present himself abroad, and immediately obtained responses and engagements from Helsinki, Stockholm and Riga, where he made his first radio recordings in 1938.
The pianist who accompanied him on this tour was Lia Steinberg, a student of Artur Lemba at the Conservatorium in Tallinn, whom he married in 1939.
His calendar as a marimba soloist was filling up just as he was struck down by tuberculosis, which forced upon him a long stay in a sanatorium. Shortly after that in 1939 he was confronted by a very difficult decision that had to be made because of the Hitler-Stalin pact. He could either risk persecution and deportation by the new Soviet/Stalinist regime, or move to the equally unacceptable Nazi Germany. He nearly lost his life at the young age of 11 during an attempted political coup, and he had not lost his fear of the Stalin regime, which from an Estonian point of view was absolutely understandable. See www.estonica.org/eng/
His preference, along with many other fellow Estonians, to immigrate to the politically neutral Sweden, was not possible because he was unable to refinance his marimba credit at such short notice.
Because the German "Treuhand" would pay off his credit, and his ever-present tuberculosis meant that he would not have to join the German military, along with good prospects to be successful in the music scene resulted in him reluctantly choosing Germany.
After he presented himself to various Berlin agents, his career became a big success resulting in non-stop tours until 1944.
He worked at many of the radio stations including those in Breslau, Leipzig, Munich, Frankfurt and Berlin. He performed at Varietés at the Wintergarten in Berlin, Deutsches Theater Munich and many others. The tours took him to many different countries in Europe. One of the early highpoints in his new career was his monthly engagement at the Wintergarten in Berlin in 1942. The critics were very enthusiastic about his virtuosity, his sensitivity of sound and his musicality.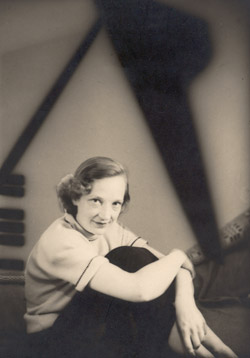 On his tours his wife Lia Pachla-Steinberg accompanied him on the piano when an orchestra was not available.
Due to his professional success, the war remained in the background. It would have been unrealistic to have expected this to continue, and setbacks were unavoidable. Bombs destroyed his apartment in Berlin in 1943 and travel became more and more difficult. The family now had a son, and was able to stay with distant relatives in Baden bei Wien (Baden close to Vienna). Towards the end of the war Wolfgang Pachla was enlisted to do civil service, which, amongst other duties, involved sorting screws. His supposedly safe place for his instrument was in an area that was later named the Soviet Zone, and after a long odyssey he ended up in the American zone in Mittelfranken (Bavaria), which unfortunately resulted in him never receiving all of his precious Ajax Marimba-Xylophone back. There was however no time to give up. They had to survive. He built himself an instrument out of the next best wood he thought the most suitable, without including resonance chambers, and tuned it as best he could. Despite these difficulties the American occupiers offered him engagements.
The years to come were for his family, as well as for most other people, years of conserable deprivation.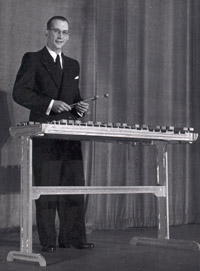 His family, now with two sons, had to be fed. This was an impossible situation for a marimba solist without a satisfactory instrument. He therefore took on a job as a civil servant for the American occupiers using his language skills. He spoke 5 languages fluently. Soon after that he was able to purchase an acceptable instrument from the German firm Röhrig, and began to establish contact with the Bavarian Radio.
He now extended his resources by purchasing an Ajax Vibraphone, which gave him additional possibilities in the 50's with popular music.
He had always hoped that he would be able to retrieve his Ajax-Marimba. However a disastrous message was to reach him that there had been a burglary and that it had been stolen. Some time later larger parts of it were to be found on a field. No metal objects were allowed to leave the Eastern zone, but he was able to receive most of the wooden bars back in various post packages.
He then combined these parts with parts of the Röhrig frame, at first with self-tuned resonance chambers made out of cardboard and covered with aluminium foil for the lower three octaves, and was surprisingly able to take on an engagement at the Tivoli in Copenhagen in 1959. He played on his vibraphone and the now two-pieced Marimba-Xylophone. Special technical solutions had to be found and mastered because of the gaps between the instruments.
His tours abroad soon led him back each year to Scandinavia, where he was so enthusiastic about the countless wonderful Marimbas und Vibraphones the radio stations owned. He was allowed to use all of these instruments for his concerts and recordings. The various makes included Ajax, Musser, Premier, and Deagan etc. He really enjoyed changing between them, because of the many nuances that were possible in sound production.
He finally had a new frame built for his Ajax keys by the firm Studio 49. (It was on this instrument that he was to first record the Creston Concertino with the Bavarian Radio. Foto left below!)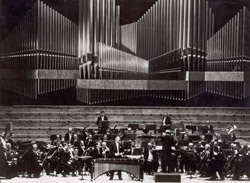 To enlarge, please click on the picture
Along with his work in classical contemporary music, Wolfgang Pachla had the challenge of preparing the new concertos for Marimba and orchestra. He recorded the Creston Concertino for Marimba and orchestra for the first time in 1965 and was probably the first person in Germany to perform the Milhaud concerto in 1967.
His wish to perform these concertos throughout Germany and Europe remained unfulfilled. The instrument had still not gained the level of importance that it would reach in decades to come and the Milhaud and Creston concertos are still not very often found in concert programs.
In 1976 he was diagnosed with cancer and for his last years he decided to write about his experience in pedagogical manuals. He had composed a number of concert studies over the years along with a Method about the two-mallet technique with which the studies could be prepared. He also arranged Marimba versions, with preparatory exercises, of the violin pieces Moto perpetuo by Paganini and Perpetuum mobile by Ries, which were both published by Zimmermann.
To celebrate his 60 years as a performing musician, the Bavarian Radio (Bayerische Rundfunk) recorded a series of his traditional arrangements compositions with orchestra along with an interview.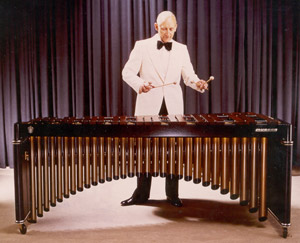 He recorded his own concert studies in 1981 on a Musser-Marimba, the instrument that he owned during his final years. His live recording of the Milhaud concerto was also on a Musser Marimba.
His publications and the posthumous production of an LP with Milhaud, Creston and his studies are documents of an outstanding career of a musician whose dedication towards his instrument, the Marimba-Xylophone can only be labelled as pioneer work.
The existing radio corporation copies and private recordings of his radio broadcasts also partly portray his music from the Varieté period and the years after the war. (Please see repertoire and recordings).